Play To Win
Tips and strategies to help make you a winning casino player

Game Rules
Learn: Blackjack, Baccarat, Craps, Roulette, Slots, Video Poker, Pai Gow Poker

Systems Gallery
Win more, more often with proven betting methods from the systems gallery

Order Form
A secure on-line order form to purchase products advertised by Let's Talk Winning.

Playing Online
All about gambling at online casinos. Find out where the best deals are

Best Casino Bonuses - NEW!
The best collection of on-line casino bonuses, where you can cash $802 on your sign-up.

Links and Things
Sign our guestbook, refer a friend, link to other gambling sites.

Gambling News - NEW!
Latest Gambling News - updated daily including gambling articles, joke of the day and a gambling dictionary.

Newsletter
Click above to read the current edition of our weekly newsletter. Then get your own free subscription right here. Enter your e-mail address for immediate delivery of an introductory issue, including a FREE ROULETTE SYSTEM:

Please tell all your friends about it.

On-Line Forum
Post a gambling question or opinion - get an answer . . .
---

---

Wanna Win At Slots? Click Here!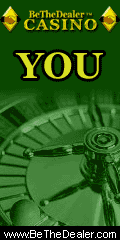 It's now $50 bonus every month!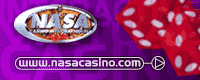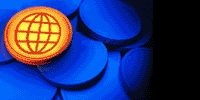 ============================================== Thursday, August 15, 2002

AAIC System for Even Bets by Stan K.
Hello everyone,
Stan K, a Let's Talk Winning customer would like to share with you a system he has developed, with which he had quite a lot of success. Stan has been sending this system by email to all who requested it at the discussion forum. Finally, we thought it could be a good idea to share it with everyone within the newsletter.
Here is how Stan puts it:
"To All Players.

Just a few comments before I email a copy of this system to those who have asked for it. This system was designed back in 1969 and eventually put on a Radio Shack computer that had no hard drive, just a floppy disk. Then I transferred it to Windows 3,1using Word Perfect. Then transferred to Windows 98 and this transfer distorted the order that it was originally written in. The system and comments were 30 pages.

I will try to send you a short form version. But I do have a copy of the entire system that is printed. Several years ago I was involved in selling systems for the purpose of contacting players and exchanging ideas. I started my hobby designing systems when I was in the 8th grade in school back in 1938 teaching students how to play dice for marbles and have enjoyed the challenge all of my life and at 78 I still enjoy it. I have also spent thousands of dollars buying systems and recently sold my entire library of systems, books and software and the reason is obvious.

Now to the systems. I sold with a guarantee and no player has ever asked for a refund. Because, as I claimed: If you, the player didn't lose 21 bets more than you won PLAYING RANGE 21, you would win. I am sure that many players did lose 21 bets more than they won, AND I HAVE, TOO. I have yet to see a system THAT NEVER LOSES! and all the players on these gambling sites haven't either. If they did, they wouldn't be on these sites. Except maybe to learn. The beauty of this system is that if you have won more bets than you lost and could maintain it, BY EVEN ONE BET, YOU CAN'T LOSE.

I will give you a short version below. The system is played in what I call ranges from range 6 to 61, if you want. I will give you an example of range 11.

To play range 11 you write down the numbers from 1 through 21. This means that if you never lose 11 bets more than you win, you can't lose. But of course if you do lose 11 best more than you win you will break a bankroll which is adding bet #11 through 21, which would be: 11+12+13+14+15+16+17+18+19+20+21 = -176 bankroll. This of course means that you are betting 1 unit of $1,00.

RANGE 11
1-2-3-4-5-6-7-8-9-10-11-12-13-14-15-16-17-18-19-20- 21

Your first bet is 11 if you WIN your next bet is 10. DOWN 1 UNIT ON WINS.
Your first bet is 11 if you LOSE your next bet is 12. UP 1 UNIT ON LOSES.

Now lets say your first bet of 11 won and your next bet of 10 lost. THE RESULTS OF THIS IS THAT YOU WON 1 BET AND LOST 1 BET. BUT YOU ARE +1 UNIT AHEAD! In other words as long as you stay in range, you will win 1 unit for every WIN/LOSS. I usually play range 21. So I would have to lose 21 bets more than I won to keep from breaking a bankroll. For example I will write some W= wins, L= losses.

Action: W L L W W L L W L W
Bet 11 10 11 12 11 10 11 12 11 12
+ or - +11 + 1 -10 + 2 +13 + 3 - 8 + 4 - 7 +5

You see that you made 10 bets. Won 5 and lost 5. BUT YOU ARE at +5

YOU CAN DO THE SAME AS ABOVE AND WRITE THE WINS AND LOSSES ANY WAY YOU WANT, BUT HAVE 5 WINS AND 5 LOSSES AND YOU WILL ALWAYS BE 5 UNITS PLUS. Of course if you lose 6 and win 4, no problem because you can make up the loss AS LONG AS YOU STAY IN RANGE AND NOT LOSE 11 BETS MORE THAN YOU WON.

Here is another simple example:

Action L L L L L W W W W W
Bet 11 12 13 14 15 16 15 14 13 12
+ or - -11 -23 -36 -50 -65 -49 -34 -20 - 7 +5
THIS MEANS THAT IF YOU MADE A 50 BETS IN ONE HOUR. LOST 25 BETS AND WON 25 BETS. YOU WOULD WIN $ 25.00 PER HOUR.

I HOPE YOU GET THE IDEA OF THE SYSTEM AND AS LONG AS YOUR BETS ARE ON THE WINNING SIDE AND STAY AT BET 11 OR BELOW, YOU CAN'T LOSE.

There is more to this system, how you can increase your bets to win more, when you are winning. But this is the basics of the system: TO WIN ONE UNIT FOR EVERY WIN/LOSS. If you win 20 bets and lose 20 bets, YOU WIN 20 UNITS.

I usually play range 21. Which means numbers from 1 to 41 and the first bet is 21 or range 21. So I would have to lose 21 bets more than I won to break a bankroll. But sometimes I could increase the high bet loss of 41 to 42 or 45 with my winnings. Lets say I won $100.00. With the winnings I could take a chance and bet 42 and 43. Then if I won them or more, I could be back
to my original range and if my luck holds up, I may return back to bet 21?

PS. This system wasn't found in a cracker jack box and I couldn't guess how many hours I spent on it. It's FREE and if you use it and win, you may remember me at Xmas time, unless you lose 21 or 31 bets more than you won.

If anyone has and ideas to improve this system, be my guest. GOOD LUCK TO ALL.

Stan K"
Wishing you all the best,
Until next week,
Izak
---
WOULD YOU LIKE TO SUBSCRIBE?
---
If you missed any newsletter, click here for an archive.
---

---

---