Play To Win
Tips and strategies to help make you a winning casino player

Game Rules
Learn: Blackjack, Baccarat, Craps, Roulette, Slots, Video Poker, Pai Gow Poker, Texas Hold'em, Caribbean Stud, Let It Ride, Casino War, Big Six, Sic Bo (NEW!)

Systems Gallery
Win more, more often with proven betting methods from the systems gallery

Order Form
A secure on-line order form to purchase products advertised by Let's Talk Winning.

Playing Online
All about gambling at online casinos. Find out where the best deals are

Best Casino Bonuses - NEW!
The best collection of on-line casino bonuses, where you can cash $802 on your sign-up.

Links and Things
Sign our guestbook, refer a friend, link to other gambling sites.

Gambling News - NEW!
Latest Gambling News - updated daily including gambling articles, joke of the day and a gambling dictionary.

Newsletter
Click above to read the current edition of our weekly newsletter. Then get your own free subscription right here.

Please tell all your friends about it.

On-Line Forum
Post a gambling question or opinion - get an answer . . .
---
Below is a selection of the most recommended
on-line casinos
and sportsbooks
Check out:
On-Line Casino of the Month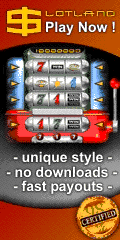 ================================================ Friday, August 12, 2022

The New HBDW System by Izak Matatya

Dear Let's Talk Winning subscribers, customers, friends,
Here's a new system for you, that stays always on the positive side using a very low budget.
It has brand new concepts never used before in any other system.
It's name is HBDW and stands for High Bet Double Win
It's designed for all even bets and bets on both sides at the same time, but does not use differential betting, but a new concept called HB, that stands for Higher Bet and is fully explained how to make use of it in the system document.
In fact, if a side is winning more than the other, there is no reason to reduce its bet size, but to take the highest possible for it.
The system uses three parameters that are totally optimized to give you the highest profit expected.
Those parameters are the minimum bet, maximum bet and a certain incremental bet.
The maximum bet insures bets do not escalate and provides a solid money management. In fact an abandoned run within 2 shoes makes only a 12 unit difference, as you will see in the system explanation.
Here's the performance chart of the system and the used parameters that generate such profits: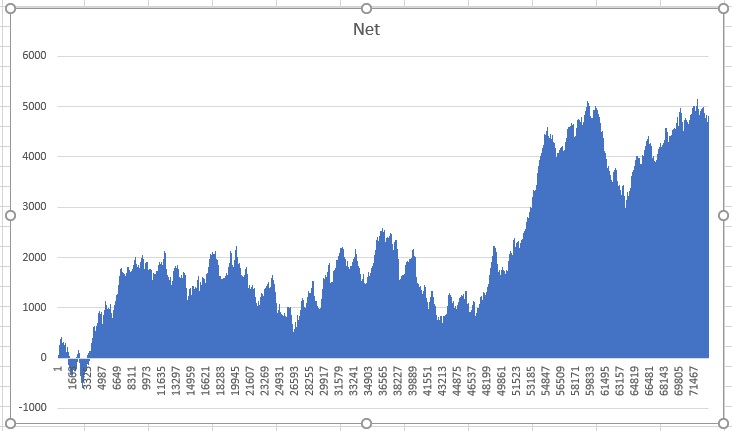 | | |
| --- | --- |
| Increment: | |
| Min bet: | |
| Max bet: | |
| Drawdown: | -586 |
| Max profit: | 5152 |
| End profit: | 4744 |
No matter where you are at the system, there will always be a next maximum.
Thus, it's not a grind system at all, closing runs with 1 unit profit. Having the minimum bet at 4 units close immediate runs at 4 units per run.
In short runs, you will see it will generate 56 units in 25 hands.
With a very low budget you can play it at $4 a bet with a maximum of $35.
Or in terms of units, a 4 unit bet can mean $40 at $10 a unit or $100 at $25 a unit, whatever your budget allows. The profits will be proportional to the size of your bets. So you can make $47,440 at $40 minimum bet in 1000 shoes, averaging your shoe profit to 4.7 units.
The range of 4-35 is equivalent to 1-8.5. So on the lowest budget of $1 a bet, your highest bet is only 8.5 times your minimum bet, where casino table ranges are at least 1-200.
The system document is not longer than 9 pages, very easy to read and implement with a little practice.
You also receive a 1000 shoe simulation, where you can experiment with the three parameters: minimum bet, maximum bet and increment and may find even better solutions that can fit your style of playing.
HBDW goes for only $650 and is already discounted to be affordable by all.
As usual, your satisfaction is guaranteed and you have a full money back guarantee should you ask for a refund within 30 days of your purchase, no questions asked, no strings attached.
Click here to order the HBDW system
Thank you and best regards,
Izak Matatya
www.letstalkwinning.com
www.izakmatatya-digitalart.com

Emails: webmaster@letstalkwinning.com, matatya.izak@gmail.com
Systems Gallery: http://www.letstalkwinning.com/gallery.htm
Newsletter: http://www.letstalkwinning.com/winalert.htm
Newsletter Archive: http://www.letstalkwinning.com/archive.htm
Recommended On-Line Casinos: http://www.letstalkwinning.com/bestonline.htm
Discussion Forum: http://www.letstalkwinning.com/forum/
Izak Matatya's new contemporary digital art online store: https://www.izakmatatya-digitalart.com, www.izakmatatya.com
---
WOULD YOU LIKE TO SUBSCRIBE? Click here.
---
If you missed any newsletter, click here for an archive.
---
Poker Guide - The world's largest poker guide PokerListings.com with reviews of 750 poker sites.

Texas Holdem - Page that compares 45 Texas Holdem online poker rooms on a number of relevant features.
---