Play To Win
Tips and strategies to help make you a winning casino player

Game Rules
Learn: Blackjack, Baccarat, Craps, Roulette, Slots, Video Poker, Pai Gow Poker, Texas Hold'em, Caribbean Stud, Let It Ride, Casino War, Big Six, Sic Bo (NEW!)

Systems Gallery
Win more, more often with proven betting methods from the systems gallery

Order Form
A secure on-line order form to purchase products advertised by Let's Talk Winning.

Playing Online
All about gambling at online casinos. Find out where the best deals are

Best Casino Bonuses - NEW!
The best collection of on-line casino bonuses, where you can cash $802 on your sign-up.

Links and Things
Sign our guestbook, refer a friend, link to other gambling sites.

Gambling News - NEW!
Latest Gambling News - updated daily including gambling articles, joke of the day and a gambling dictionary.

Newsletter
Click above to read the current edition of our weekly newsletter. Then get your own free subscription right here. Enter your e-mail address for immediate delivery of an introductory issue, including a FREE ROULETTE SYSTEM by clicking here.

Please tell all your friends about it.

On-Line Forum
Post a gambling question or opinion - get an answer . . .
---
Below is a selection of the most recommended
on-line casinos
and sportsbooks

Check out:
On-Line Casino of the Month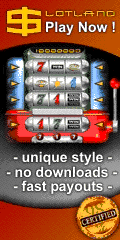 ---
================================================ Thursday, April 7, 2005

Betting Tips by PerryB
Hello everyone,
The following short newsletter is brought to you by Perry Benedik, the author of 14 Months at the Sic-Bo Table, containing Sic-Bo strategies that can be used effectively for any even money bet game.
"While flat betting may be the safest way to go, even a 50+% bet selection will do no better than produce only minimal profit after a long period of time.

In order to enhance the performance of a good bet selection, every method of betting has its own mix of particular risks and rewards. While Martingale progressions require only 1 win in order to get ahead, it's great while you're winning. But if you happen to run into a period of 6 or 7 consecutive losses, the double-up betting escalation can put a big dent in your bankroll in a real hurry.

Any bet selection that's worth its salt will usually produce at least 2 wins in a row with reliable consistency. One economical way to take advantage of this is by using a straight parlay - re-betting the original bet along with the profit from a win. However, in a repeating "win one/lose one" scenario, you end up losing every time a win is followed by a loss. (The cheapest parlay progression that can be used is: 1-1-1-2-2-3-4-5-7-9. I would never advise anyone to go any further than the 5th or 6th bet, and risk no more than 10 units for any betting session.)

I prefer using a D'Alembert/Fibonacci approach like this:
After a loss, go to the next bet using a 1-1-2-3-5 progression. After a win, for your next bet go back to the previous bet in the progression. In other words, let's say you lost 1-1-2-3 (7 units) and you win your 5-unit bet. By making your next bet the 3-unit bet, if you win it, you're ahead. If you lose the 3-unit bet, but win the next bet of 5 units, you're even, and then go back to the start of the progression again. (If you lose 1-1 and win 2, go back to the first 1-unit bet.)

I personally don't like going past the 4th bet of this progression. I have found that starting over again after 4 consecutive losses, and accepting only a 7-unit loss for the betting period is still substantially superior to using only flat bets in the long run. Only 7 units lost is easy enough to recover, and the additional 5 units that I don't bet can be applied to my next betting session, as opposed to losing it more than half of the time (during a losing period) on the very next bet."

PerryB
With your order of 14 Months at the Sic-Bo Table, you receive a 22 page e-book, 273 pages of analyzed Sic-Bo results of 46,288 rolls, plenty of useful strategies, as well as some of Perry's famous articles.
Click here to order, or click on the PayPal button below for an email delivery of the system.
You can then try out those effective strategies at the great on-line casino Vegas Red, where you have live Sic-Bo, that is a live dealer shaking the 3 dice in a huge shaker and then inverting the shaker to lay the dice down, guaranteeing a random outcome.
Wishing you all the best,
Until next week,
Izak
---

---
WOULD YOU LIKE TO SUBSCRIBE? Click here.
---
---
If you missed any newsletter, click here for an archive.
---
---
Poker Guide - The world's largest poker guide PokerListings.com with reviews of 750 poker sites.

Texas Holdem - Page that compares 45 Texas Holdem online poker rooms on a number of relevant features.
---