Play To Win
Tips and strategies to help make you a winning casino player

Game Rules
Learn: Blackjack, Baccarat, Craps, Roulette, Slots, Video Poker, Pai Gow Poker, Texas Hold'em, Caribbean Stud, Let It Ride, Casino War, Big Six, Sic Bo (NEW!)

Systems Gallery
Win more, more often with proven betting methods from the systems gallery

Order Form
A secure on-line order form to purchase products advertised by Let's Talk Winning.

Playing Online
All about gambling at online casinos. Find out where the best deals are

Best Casino Bonuses - NEW!
The best collection of on-line casino bonuses, where you can cash $802 on your sign-up.

Links and Things
Sign our guestbook, refer a friend, link to other gambling sites.

Gambling News - NEW!
Latest Gambling News - updated daily including gambling articles, joke of the day and a gambling dictionary.

Newsletter
Click above to read the current edition of our weekly newsletter. Then get your own free subscription right here.

Please tell all your friends about it.

On-Line Forum
Post a gambling question or opinion - get an answer . . .
---
Below is a selection of the most recommended
on-line casinos
and sportsbooks
Check out:
On-Line Casino of the Month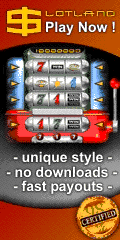 =================================================== Friday, April 29, 2016

One-on-one Craps Tutorial by Dicetrakkr
Dear Let's Talk Winning subscribers, customers, friends,
This week I would like to promote Dicetrakker's following offer to you for winning in Craps:
Winning and Losing Comes Down to Three Things:
How Much to Risk!
How Much of a Win is Enough?
When to Color Up and Leave the Casino!
As a retired printing business owner currently operating a graphic arts business, I can tell you nothing was more important in my enterprise than attention to detail.
In my quarter century as a semi-pro craps player I continually advise players attention to detail is even more important when risking their hard-earned money in the casino.

Let's face it:
Despite claims to the contrary, no one wins every dice session. While almost every dice player arrives with expectations that every person who touches the dice may be their savior, the majority of these chase some of the worst bets on the table – including the highest disadvantaged middle of the table wagers available.
This includes side bets such as The Fire Bet, All or Nothing, or the Over/Under bets.
You can get lucky – luck never hurt anyone!
The problem is you become a "walking billboard for the casino" telling everyone your never-ending fish story which no one really wants to hear.
"Money Management" should be your number one priority.
Without it you are proof to casino dice dealers you only know how to play lucky. More often than not, you illustrate only knowing how to lose.

Minimal mathematics is involved with craps.
For example, the six and eight have more ways to roll than any other point numbers – the four, five, nine and ten may not roll as often – but quite often "missing" numbers proliferate and become "hot" numbers. Any of the six box numbers (#4, #5, #6, #8, #9, and #10) can hibernate for long periods. In fact, any number can often become the perfect "lay" bet.
Do you know when to Place, Lay or Refrain from placing money at risk?
Controlling your loss is paramount and wins take care of you in the long scheme of things!

I am a certified, retired, dice dealer: registered license #4296-L2.
Purchase my one-time "One-On-One" tutorials and you will gain from my knowledge during our Internet Skype discussions. Each lesson (6-hours* total per individual) is pre-scheduled in one-hour increments. Advanced scheduling required. Class times are available Monday through Thursday, Eastern Standard Time, 6:30 p.m. until 9:30 p.m.
Initial six-hour classes are $276. *Additional lessons available at $30 per hour.
To inquire about "One-On-One" private tutorials please contact: dicetrakkr@comcast.net
Additional one-hour "one-on-one" lessons are discussed directly with DiceTrakkr to schedule additional private Skype classes.
Your email address is necessary so I can relay my Skype number … I will contact you and provide you with my Skype number.
"FREE Bonus"
A 7th FREE lesson** will be discussed how a simple technique diminishes 99% of your guess-work whether to "place" a table wager, "lay" a number, or Do Nothing" – an improved technique developed during the past six-months!
"The unknown 1% factor is your decision –
a) place a table wager – how much;
b) lay a number – what number and how much;
c) do nothing until – the table favors your style of playing.
** This "free Bonus" follows the closing of the sixth one-hour lesson. It will not be discussed any time prior to or during any one of the six, 6, one-on-one discussions.
Experience is your best teacher!
Yesterday's dice session is moot – it is history.
What occurs during your current session has nothing to do with events at near-by dice tables.
Experience relates to information about what "may or may not" take place. It is always in your best interest understanding "Testing Expectations!"
Wishing you "more winning dice sessions!"
I am Respectfully,
Dicetrakker
Questions are welcome by phone or by email (dicetrakkr@comcast.net)
You can call:
574.233.0045 between 7pm-10:30pm Eastern Standard Time Mon, Tues, Wed, Thu.
Send your payment by PayPal to id: izak.matatya@videotron.ca
or use the secure purchase order form at the following link.
and click on the item: "one-on-one craps tutorial by Dicetrakkr."
Wishing you all the best!
Izak Matatya
Email: webmaster@letstalkwinning.com or izak.matatya@videotron.ca
Systems Gallery: http://www.letstalkwinning.com/gallery.htm
Newsletter: http://www.letstalkwinning.com/winalert.htm
Newsletter Archive: http://www.letstalkwinning.com/archive.htm
Recommended On-Line Casinos: http://www.letstalkwinning.com/bestonline.htm
Discussion Forum: http://www.letstalkwinning.com/forum/
Latest Gambling News: http://www.letstalkwinning.com/latest-news.htm
New Art Gallery: http://www.letstalkwinning.com/Izak.Matatya.Art.htm
Izak Matatya's digital art works: www.izakmatatya.com
---
WOULD YOU LIKE TO SUBSCRIBE? Click here.
---
If you missed any newsletter, click here for an archive.
---
Poker Guide - The world's largest poker guide PokerListings.com with reviews of 750 poker sites.

Texas Holdem - Page that compares 45 Texas Holdem online poker rooms on a number of relevant features.
---