Play To Win
Tips and strategies to help make you a winning casino player

Game Rules
Learn: Blackjack, Baccarat, Craps, Roulette, Slots, Video Poker, Pai Gow Poker, Texas Hold'em, Caribbean Stud, Let It Ride, Casino War, Big Six, Sic Bo (NEW!)

Systems Gallery
Win more, more often with proven betting methods from the systems gallery

Order Form
A secure on-line order form to purchase products advertised by Let's Talk Winning.

Playing Online
All about gambling at online casinos. Find out where the best deals are

Best Casino Bonuses - NEW!
The best collection of on-line casino bonuses, where you can cash $802 on your sign-up.

Links and Things
Sign our guestbook, refer a friend, link to other gambling sites.

Gambling News - NEW!
Latest Gambling News - updated daily including gambling articles, joke of the day and a gambling dictionary.

Newsletter
Click above to read the current edition of our weekly newsletter. Then get your own free subscription right here. Enter your e-mail address for immediate delivery of an introductory issue, including a FREE ROULETTE SYSTEM by clicking here.

Please tell all your friends about it.

On-Line Forum
Post a gambling question or opinion - get an answer . . .
---
Below is a selection of the most recommended
on-line casinos
and sportsbooks

Check out:
On-Line Casino of the Month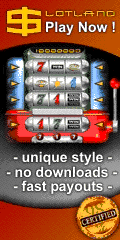 ---
================================================ Monday, April 25, 2005

The New DS4-5 Roulette Systems
Hello everyone,
During the month of February, I had this great system idea. I promised I would thoroughly test it during the entire month of March on the real spin archives of Hamburg Casino for every single day and if the results were positive, I would release it for you.
Well, I'm happy to announce that I had great results during March and the last 2 months of my live play of this system. I took the time to document the system for you in a 70 page document, that includes all those results, as well as a full explanation on how the system works and why it works so well.
The system itself is not complicated. It's very simple and easy to learn. As a matter of fact, the 70 pages are not only one system, but three. You receive two extra bonus systems upon the purchase of this great system.
All three systems are based on playing the double streets in Roulette, as the DS part of the system implies. The double streets cover 6 numbers. You cover those 6 numbers by the placing of one single chip on the line at the border of the roulette layout between two street or three number bets. The payout of the double street bets are 6 for 1 or 5 to 1.
The base system is referred to as DS4 and the two bonus systems as DS5 Part I and DS5 Part II respectively. We will talk about the performance of each one of them.
DS4 is the one tested for the entire month of March in Hamburg casino, that contained about 300 spins per day. For 30 days, this constituted about 9,000 real spins. March has 31 days. However, the casino was closed on March 25.
Some days, DS4 was able to produce easily more than 50 units. Some days, the profit level reached more than 70 units up to 100 units.
The betting is mostly flat bets, that is, it bets the same amount of units spin after spin. Only, if the net balance for the session goes into negative, that we go into a mild progression, that in most cases brings your net balance right back into the positive within not more than 4-6 spins. As long as the net running total is positive, we never go into any kind of progression. The excellent bet selection is able to profit with only flat bets in the majority of all sessions. It is not unusual for the system to generate 16-20 consecutive wins.
Despite the high profitability level of the system being able to generate more than 50 units a day, certain optimal win targets and loss limits had to be established for the fine tuning of DS4 to ensure your coming ahead with the system for as long as you may wish to play it.
After hours of research and development, the win target and the loss limit were set to +16 units and -22 units respectively for the session. With those optimized targets, you will be able to close two thirds of all sessions at +16 units and one third at -22 units. The system document shows the results of two thirds of Hamburg spins ending at +16 units and the remaining third abandoned at -22 units.
In my live play, and applying those limits, I was able to complete two thirds of all the sessions I played at +16 units. You have to have the discipline of quitting a bad session at -22 units. There is no need to chase losses. There will be many other sessions, that will achieve +16 units very easily. This is a key factor in the money management of DS4.
You can play multiple sessions during one day, since each session could take between 8 spins and 60, which is not more than an hour. Playing 5 hours a day, you can complete 5 sessions. Playing say 90 sessions per month, you can make 16 units for 60 sessions and lose 22 units for 30 sessions. This will profit you (16 X 60) – (22 X 30) or 960 – 660 or 300 units a month. Playing with only $10 chips, this can bring you a side profit of $3,000 a month. Playing with $25 chips, this amounts to $7,500 a month.

I would recommend a session bankroll of 34 units. In case of the rare possibility of losing 3 sessions in a row, 100 units would be sufficient to play for a daily bankroll and 300 units for a lifetime bankroll.
This was for DS4. The two extra bonus systems DS5 are quite different. Unlike DS4, which requires almost no tracking, DS5 waits for the right moment to place a bet, which can take 10-20 spins. This right moment, however, has a very high win rate. 95% of all bets are won with a very unusual and unique bet selection. This is accomplished with absolutely no progression and with flat bets only in DS5 Part I.
The difference between DS5 Part I and Part II is that Part II uses a 3 step progression and Part I uses flat bets only.
DS5 Part I makes 26 units in 727 spins with flat bets only. DS5 Part II makes 46 units within the same amount of spins with a 3 step progression. It will be up to you to want to use a progression or not, as the progression requires 215 units. The good news is that you could lose this amount only once in 32,000 spins. This is based on hundreds of thousands of simulated spins. At the rate DS5 Part II performs, within 32,000 spins you will profit (46 / 727) X 32000 = 2,024 units. So you will be losing 215 units for every gain of 2,024 units, which is a good proposition.
Also in DS5, both parts, there are no sessions. You can play the systems continuously and profit at the stated rates. That also means that there are no win targets. You can play both systems with open ended winnings. For DS5 Part I a loss limit of -40 units is suggested in case the table goes against you. For DS5 Part II, I have never seen the system fail up front. By the time a 215 unit loss may be encountered, you will be way ahead.
So here you have a collection of 3 great systems. You can play the one, which suits your betting style the most: DS4 if you're looking for a dynamic system, where you bet on every single spin after having tracked 4-8 spins top at the beginning of your play; DS5, if you looking for a system with a high winning rate, if you have the patience to track a few spins before placing your bet; DS5 Part I, if you would like to play with pure flat bets; DS5 Part II, if you don't mind a progression; DS4, for mostly flat bets and occasional progression use.
The price for this collection is $520 for an email delivery. $20 extra are charged if you need a printout mailed to you. You have 30 days to test the system on paper, before you use it for real. If you are not completely satisfied with the systems' performance, you can return them with a full money back guarantee within 30 days of your purchase. I will only need your log or record of your spins to make sure you have applied the systems as documented.
Questions and inquiries are welcome by either emailing me at webmaster@letstalkwinning.com or placing your questions in the discussion forum, where everyone can benefit from each other's ideas.
Click here to order.
Thank you,
Izak Matatya
Wishing you all the best,
Until next week,
Izak
---

---
WOULD YOU LIKE TO SUBSCRIBE? Click here.
---
---
If you missed any newsletter, click here for an archive.
---
---
Poker Guide - The world's largest poker guide PokerListings.com with reviews of 750 poker sites.

Texas Holdem - Page that compares 45 Texas Holdem online poker rooms on a number of relevant features.
---