Play To Win
Tips and strategies to help make you a winning casino player

Game Rules
Learn: Blackjack, Baccarat, Craps, Roulette, Slots, Video Poker, Pai Gow Poker, Texas Hold'em, Caribbean Stud, Let It Ride, Casino War, Big Six, Sic Bo (NEW!)

Systems Gallery
Win more, more often with proven betting methods from the systems gallery

Order Form
A secure on-line order form to purchase products advertised by Let's Talk Winning.

Playing Online
All about gambling at online casinos. Find out where the best deals are

Best Casino Bonuses - NEW!
The best collection of on-line casino bonuses, where you can cash $802 on your sign-up.

Links and Things
Sign our guestbook, refer a friend, link to other gambling sites.

Gambling News - NEW!
Latest Gambling News - updated daily including gambling articles, joke of the day and a gambling dictionary.

Newsletter
Click above to read the current edition of our weekly newsletter. Then get your own free subscription right here.

Please tell all your friends about it.

On-Line Forum
Post a gambling question or opinion - get an answer . . .
---
Below is a selection of the most recommended
on-line casinos
and sportsbooks
Check out:
On-Line Casino of the Month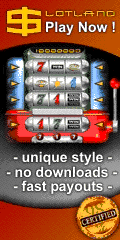 =================================================== Friday, April 1, 2016

Las Vegas Visit
Dear Let's Talk Winning subscribers, customers, friends,
They say, whatever happens in Vegas stays in Vegas. Well, not this time. I just came back from my Vegas visit, and I surely would like to share my experiences with you.

After being in this business for so many years, one would think I visit Vegas very frequently, but this was my very first visit, actually. I heard so much about it from friends, co-authors, the x-owner of Let's Talk Winning: Tony Frank, who unfortunately passed away last year, that I felt I have been there many times already.
As you may know, each fancy (and not so fancy) hotel has a casino in the main floor. An extensive research was necessary to find out the best suitable casinos for best odds, table limits and of course, my budget.
That took a couple of days. The first night, however, I did have to try the casino in the resort I stayed: the Aria hotel, a very fancy 5 star hotel and the minimum bets at their Baccarat tables go between $50-$100, pretty high for my standards, but I took the challenge anyway. At times, you have to bet big, to win big.
I used my IBS11 on a Baccarat table, which limits the highest bet to 16 units max and managed to make 28 units in a couple of hours of play, never having to bet more than 8 units tops. The table's highest bet went up to $25,000, which I found outrageous. But this would enable you to use steeper progressions. Nevertheless IBS11 wouldn't go that high, unless you have a huge budget and you can use your lowest bet to be $1000, thus limiting your high bet to $16000. I was OK with $50 minimum and never had to bet more than $400 as the highest bet.
Funny to mention, that IBS11 is the latest of my IBS (Infallible Baccarat System) series and I consider it as one of my best systems, in terms of its logic, limitation of escalation of bets, flexible cancellation way, excellent bet selection, and most consistent way of making profits. When the system was launched, there was not even one question about it and thus no FAQ newsletter nor follow up. I would strongly encourage you to acquire it. You can use this newsletter as a coupon and I will give you 50% off the listed price.
For the next two days, I did not play, just went in and out of casinos taking a look at their ambiance, and their table limits. I found a very nice casino at the Encore resort next to Wynn's. The looks were enchanting, bright with red lanterns, surrounded with flowery gardens with lots of windows overlooking to those gardens, which is very unusual for a casino environment, that are generally dark and smoky.
There I found a nice no commission Baccarat table with table limits of $25-$25000 or 1-1000, ideal to play any system of mine. This time I used my IHG, which uses KISS as a bet selection combined with some double win bet method. Patterns that came out generated lots of double wins, generating each 1 unit profit. Again I was up by an average of 14 units per shoe and played about 3 hours. I was alone at the table and they let me take notes and everything, but after a while I was able to keep every count in my head and did not require pen and pad.
The no commission Baccarat does not pay commission on Banker wins. The house edge comes from the fact that if Banker wins on a 6, they pay you 50% of your bet. This did not affect the performance of IHG. I just had to register the won amount and keep track of the balance for the run accordingly and adjust at the subsequent bets when it was time to close the run with a profit.
Moreover, those tables had some extra special bets, such as if Player or Banker wins were on a pair, it paid you 12 for 1, if you were placing those bets, additional to your regular Player and Banker bets. Those look like special bonus, but actually increases the house edge if you bet on them. However, if they did not show up for three quarters of a shoe, you could go for them, as those decisions do come up about 2-3 times per shoe.
The last evening of my play, I just wanted to take it easy, so I looked for EZ-Baccarat (as the name implies) or Dragon Baccarat, where, again, there are no commissions on Banker wins, and you can place bets on the Dragon and the Panda. For this, I was referred to a casino called Gold Coast, visited by mostly Chinese players, which is right next to the Rio Resort and Casino. It came handy, as we watched the Penn and Teller show at the Rio that night. After the show, I went to the Gold Coast and found 6 EZ Baccarat tables with $10 minimum, which was quite adequate for a relaxed way of applying my systems. I used again a combination of IHG and IBS11 (the bet selection of IHG with the method of IBS11) and that worked quite well. Never lost my session bankroll and was up by 35 units in 2.5 hours of play.
Again, you can use this newsletter as a coupon and I will give you 50% off if you purchase IHG, too. Combining the two will be most beneficial to you.
All you have to do is place your regular order of IHG and IBS11 and send me an email (webmaster@letstalkwinning.com) telling me you have received this newsletter and would like me to apply the 50% discount on any one of both of those systems.

Click here to order. Your satisfaction is guaranteed. You have a full money back guarantee if you return the systems within 30 days of your purchase, no strings attached.
Another nice show to see is "O" by Cirque de Soleil, a very successful circus company and they have fabulous shows in Vegas and all around the world.
So Vegas was very enjoyable. Hoping to go back there again some day.
Wishing you all the best!
Izak Matatya
Email: webmaster@letstalkwinning.com or izak.matatya@videotron.ca
Systems Gallery: http://www.letstalkwinning.com/gallery.htm
Newsletter: http://www.letstalkwinning.com/winalert.htm
Newsletter Archive: http://www.letstalkwinning.com/archive.htm
Recommended On-Line Casinos: http://www.letstalkwinning.com/bestonline.htm
Discussion Forum: http://www.letstalkwinning.com/forum/
Latest Gambling News: http://www.letstalkwinning.com/latest-news.htm
New Art Gallery: http://www.letstalkwinning.com/Izak.Matatya.Art.htm
Izak Matatya's digital art works: www.izakmatatya.com
---
WOULD YOU LIKE TO SUBSCRIBE? Click here.
---
If you missed any newsletter, click here for an archive.
---
Poker Guide - The world's largest poker guide PokerListings.com with reviews of 750 poker sites.

Texas Holdem - Page that compares 45 Texas Holdem online poker rooms on a number of relevant features.
---