Play To Win
Tips and strategies to help make you a winning casino player

Game Rules
Learn: Blackjack, Baccarat, Craps, Roulette, Slots, Video Poker, Pai Gow Poker, Texas Hold'em, Caribbean Stud, Let It Ride, Casino War, Big Six, Sic Bo (NEW!)

Systems Gallery
Win more, more often with proven betting methods from the systems gallery

Order Form
A secure on-line order form to purchase products advertised by Let's Talk Winning.

Playing Online
All about gambling at online casinos. Find out where the best deals are

Best Casino Bonuses - NEW!
The best collection of on-line casino bonuses, where you can cash $802 on your sign-up.

Links and Things
Sign our guestbook, refer a friend, link to other gambling sites.

Gambling News - NEW!
Latest Gambling News - updated daily including gambling articles, joke of the day and a gambling dictionary.

Newsletter
Click above to read the current edition of our weekly newsletter. Then get your own free subscription right here. Enter your e-mail address for immediate delivery of an introductory issue, including a FREE ROULETTE SYSTEM by clicking here.

Please tell all your friends about it.

On-Line Forum
Post a gambling question or opinion - get an answer . . .
---
Below is a selection of the most recommended
on-line casinos
and sportsbooks

Check out:
On-Line Casino of the Month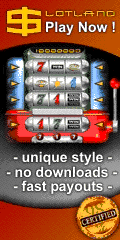 ---
================================================ Thursday, April 1, 2004

A Profitable NBA Betting Day
Hello everyone,
I placed 7 bets on 7 different NBA games tonight, Wednesday, March 31, 2004 and I won 6 out of them (not an April fool) winning $100 on each, and I'd like to share with you how I accomplished this.
Here is the log of my bets:
Ticket

Time

Wager

Sport

Game #

Team / Event

Selection

Status

Points

Odds

Bet

Result

31-March-2004

4548362

17:19

Straight Bet

NBA

711

Los Angeles Clippers v Detroit Pistons

Detroit Pistons

-12.5

-107

107.00

0.00

4548360

17:19

Straight Bet

NBA

707

Chicago Bulls v Orlando Magic

Chicago Bulls

-1.5

-107

107.00

207.00

4548357

17:18

Straight Bet

NBA

705

Milwaukee Bucks v Indiana Pacers

Indiana Pacers

-9

-107

107.00

207.00

4548354

17:18

Straight Bet

NBA

713

Miami Heat v Atlanta Hawks

Atlanta Hawks

+5.5

-107

107.00

207.00

4548352

17:17

Straight Bet

NBA

717

Sacramento Kings v San Antonio Spurs

San Antonio Spurs

-6.5

-107

107.00

207.00

4548349

17:17

Straight Bet

NBA

715

Seattle Supersonics v Minnesota Timberwolves

Seattle Supersonics

+10

-107

107.00

207.00

4548347

17:16

Straight Bet

NBA

701

Portland Trail Blazers v Boston Celtics

Portland Trail Blazers

-1.5

-107

107.00

207.00
This was in Canbet, the Sportsbook I trust the most, because of their extremely reliable service, accuracy and timeliness of their payouts and wonderful customer service. You simply can't go wrong with Canbet. They also offer the best odds, betting 107 to win 100, as opposed to betting 110 to win 100 as seen in most other sportbooks.
In any event, I did not place those bets by merely guessing. I just happened to visit DonBest at www.donbest.com and clicked on Free Picks. To my amazement, they were all on NBA and there were 6 reviewed games by their famous handicappers. The following were their analysis:
1) Handicapper: Marc Lawrence

League: NBA

Event: Minnesota Timberwolves vs Seattle Supersonics on 03-31-2004 at 17:05

Condition: Seattle Supersonics

Explanation: Seattle catches Minnesota off a revenge win over Houston while holding a bill for an 18-point loss in its hands. The Wolves, though successful against most teams, are just 1-7 ATS in their last eight games with the Sonics and just 8-17-1 ATS in the last 26 meetings on this floor. Sure, Seattle has struggled some this season but the Soundmen can rise to the occasion every now and then. Minny just might mail this one in. Take all the points you can in this possible upset-maker!
and he was right!


2) Handicapper: Big Al McMordie

League: NBA

Event: San Antonio Spurs vs Sacramento Kings on 03-31-2004 at 17:35

Condition: San Antonio Spurs

Explanation: Our complimentary selection is on the San Antonio Spurs, who lost 101-87 at Sacramento on March 14. But the Spurs were without Tim Duncan for that contest, so the Kings pulled away in the 4th quarter to win. The "Big Fundamental" is back in the lineup now, and San Antone is a solid 41-21 ATS when revenging a same-season loss. Take the Spurs. Good luck, as always...Al McMordie.
and he was right, too!


3) Handicapper: Larry Ness

League: NBA

Event: Atlanta Hawks vs Miami Heat on 03-31-2004 at 16:35

Condition: Atlanta Hawks

Explanation: The Miami Heat have become one of the NBA's best stories this year with a remarkable turnaround after opening the season 0-7! The team's 26-12 home record is the second-best mark in the East and they enter this game at Atlanta in good playoff position! Miami is however just 10-26 SU away from home and although they have just recently won at Washington (by 20) and at Orlando (by 15) as road favorites, this Atlanta team has not quit. Despite a year in which the team has traded and moved players in an effort to clear cap space, the Hawks are 13-9 as home dogs this season with SU wins over Dallas, LA Lakers, Sa Antonio and Minnesota. Odom and his bruised knee is expected back for Miami in this one but a win won't come easy vs the Hawks. Take the points with Atlanta.
and he was right, too!


4) Handicapper: Joe Gavazzi

League: NBA

Event: Indiana Pacers vs Milwaukee Bucks on 03-31-2004 at 16:05

Condition: Indiana Pacers

Explanation: INDIANA (-9-) over Milwaukee by 16 Last night Milwaukee defeated Indiana 95-86 for the third consecutive time this season. Yet, the Pacers maintain the best record in the league by a narrow one-game margin over the Sacramento Kings. Expect the Pacers to play one of their best games of the season as they clinch home court advantage in the Eastern Conference and triple avenge their division rival.
and he was right, too!


5) Handicapper: LT Profits

League: NBA

Event: Orlando Magic vs Chicago Bulls on 03-31-2004 at 16:05

Condition: Chicago Bulls

Explanation: Just to give you an idea of how non-competitive Orlando has become, we have no qualms here about laying this small spot on the road even with the lowly Bulls! The Magic have now lost 8 consecutive games to fall to a horrific 19-56 S/U on the year. The problem is not only that Orlando is losing, but that they are getting blown out in practically every game while playing absolutely no defense. During their 8-game skid, the Magic are losing by an average of 17.3 points, and they are coming off of a nationally televised 30-point drubbing at the hands of Dallas on Sunday. Worst of all, it is starting to look like Tracy McGrady has played his last game for Orlando this season, and quite possibly for his career. The Bulls are not much better overall at just 20-54, but at least they continue to play hard, and some of their youngsters are starting to develop nicely. Chicago actually played quite well in their deceptive 105-96 loss at potentially playoff-bound Miami on Monday, as the 9-point margin at the end of the game was the biggest lead for the Heat. While the Bulls are still struggling on the road at 7-30 S/U, they are a much more respectable 17-20 ATS in those games, and we expect them to take advantage here in a very rare winnable road game for them.
and he was right, too!


6) Handicapper: Cincinnati Kid

League: NBA

Event: San Antonio Spurs vs Sacramento Kings on 03-31-2004 at 17:35

Condition: San Antonio Spurs

Explanation: San Antonio has risen to the challenge in their 4 previous outings at home when facing Class A or B teams winning all four vs. the number...also San Antonio has redeemed themselves when facing a foe they lost to while committing 20 > TO's cashing 6 in a row...Kings 0-4 ATS in games before facing the Mavs...0-4 ATS vs. Revenge and 0-6 ATS off a SU win and out-rebounded by the losing foe...Kings get crowned tonight!
and he was right, too!


7) Handicapper: Alex Smart

League: NBA

Event: Detroit Pistons vs Los Angeles Clippers on 03-31-2004 at 16:35

Condition: Detroit Pistons

Explanation: The Pistons come into this game on a bankroll expanding 9-2 ATS run over their L11 overall contests and 5-0 ATS L5 at home in Motown . the Pistons when playing against todays opposition the Clippers are 9-2-1 ATS L12 overall meetings . Detroit are also 10-1 SU & 7-1-3 ATS L11 when playing the Clippers on home court. Note: The Pistons have won their L5 games at home by an average of 20.2 ppg. So with that in mind and despite the big number the books are asking us to cover I am recommending a play on the home chalk Pistons.
He missed just by a hair, at the last moment.
I also got another free pick from VSI stating:
Free Pick from VSI
Take Portland Over Boston

We feel Portland should be laying a point or two more but Boston is on a three-game winning streak and the Celtics are getting a little unwarranted love from the oddsmakers. Two of those wins came against an injury plagued New Jersey team and a Philadelphia team without Allen Iverson. Before the current winning streak they had lost 4 of 6.

They will be facing a Portland team that is loaded with talent and relatively healthy. They are coming off a disappointing one-point loss to New York, which involved some controversial calls down the stretch and a post-game argument between Coach Mo Cheeks and upcoming star Zach Randolph. But the Blazers know how to work through intra-squad turmoil (it's a regular occurrence in Portland) and we feel they will cover this line fairly easy. They feel like the New York loss was one that got away so they won't leave it down to chance in the fourth quarter. Portland has also covered three of the last four in this series. All signs point to the Blazers.

and he was right, too!
Before I decided to place a bet on each one of those games, I reviewed their records and some of them have gone 100% ATS in NIT championship games since 1990 with a record of 44-0!
So, I said to myself, they can't all go wrong. If I could win 4 out of those 7 games, I would be ahead. And they went 6 out of 7 to my very pleasant surprise.
Here is the summary of tonight's all NBA games, as shown in DonBest.

Gm#

Pacific
Time


Team


1st


2nd


3rd


4th


OT


Score


Status

Closing
Line

1st H
Total

2nd H
Total

701

Portland

24

24

30

27

105

1½

48

57

702

04:05p

Boston

28

23

19

28

98

FINAL

180½

51

47

703

New Jersey

24

17

25

27

10

103

OT

3

41

62

704

04:05p

Washington

27

23

23

20

6

99

FINAL

184

50

49

705

Milwaukee

13

24

18

23

78

191½

37

41

706

04:05p

Indiana

30

20

31

30

111

FINAL

9½

50

61

707

Chicago

28

21

24

36

109

1

49

60

708

04:05p

Orlando

32

21

11

27

91

FINAL

191½

53

38

709

Golden State

23

22

16

24

85

177

45

40

710

04:35p

Toronto

23

14

18

23

78

FINAL

4½

37

41

711

LA Clippers

23

29

25

22

99

175½

52

47

712

04:35p

Detroit

24

28

25

31

108

FINAL

13½

52

56

713

Miami

24

25

27

24

100

5½

49

51

714

04:35p

Atlanta

18

24

33

22

97

FINAL

192

42

55

715

Seattle

20

16

20

27

83

191

36

47

716

05:05p

Minnesota

23

17

25

25

90

FINAL

10

40

50

717

Sacramento

24

18

25

22

89

192

42

47

718

05:35p

San Antonio

26

28

25

28

107

FINAL

7½

54

53

719

New Orleans

11

24

17

24

76

173

35

41

720

06:05p

Utah

20

22

19

28

89

FINAL

8½

42

47
The question now is what is the value of their free picks and if they would perform this way consistently and continuously? In my opinion, they give a strong game as a free pick, because if it wins, it gains the confidence of players and they would want to subscribe to their services. Therefore, their free picks become a strong promotion for them.
It is worth in any event to keep track of the performance of their free picks and see how they would do over an extended period of time. After all, if one would place 10 bets a day and gets 6-7 wins out of those 10 in average, one can make 2-3 units profit per day, taking the vigs into consideration, building gradually a solid bankroll, which would allow increasing the size of the bets, as one gains 10-20 units per month.
Wishing you all the best,
Until next week,
Izak
---
WOULD YOU LIKE TO SUBSCRIBE? Click here.
---
If you missed any newsletter, click here for an archive.
---

---

---
---