Play To Win
Tips and strategies to help make you a winning casino player

Game Rules
Learn: Blackjack, Baccarat, Craps, Roulette, Slots, Video Poker, Pai Gow Poker, Texas Hold'em, Caribbean Stud, Let It Ride, Casino War, Big Six, Sic Bo (NEW!)

Systems Gallery
Win more, more often with proven betting methods from the systems gallery

Order Form
A secure on-line order form to purchase products advertised by Let's Talk Winning.

Playing Online
All about gambling at online casinos. Find out where the best deals are

Best Casino Bonuses - NEW!
The best collection of on-line casino bonuses, where you can cash $802 on your sign-up.

Links and Things
Sign our guestbook, refer a friend, link to other gambling sites.

Gambling News - NEW!
Latest Gambling News - updated daily including gambling articles, joke of the day and a gambling dictionary.

Newsletter
Click above to read the current edition of our weekly newsletter. Then get your own free subscription right here.

Please tell all your friends about it.

On-Line Forum
Post a gambling question or opinion - get an answer . . .
---
Below is a selection of the most recommended
on-line casinos
and sportsbooks
Check out:
On-Line Casino of the Month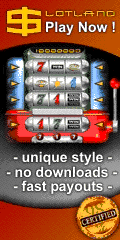 ================================================ Tuesday, April 12, 2022

Free Roulette System

Dear Let's Talk Winning subscribers, customers, friends,
Here's a free roulette system for you.
It's based on the principles of two good systems: Repeating Numbers Version 2.0 and Awakening Numbers.
We know that within 38 spins all 38 numbers cannot be all different, thus some numbers will have to repeat.
Also not all numbers can sleep. They will eventually have to wake up.
They are both winning principles. Now we will combine the two.
Let's say, you come to the casino with a friend with the goal of sharing your profits at the end of your sessions.
You track 28 different numbers on the roulette table. Once ready, one of you bets on those 28 numbers with the hope that one of them will repeat. Your partner bets on the remaining 10 numbers (we're talking 00 wheel with 36 actual numbers and two zeros), with the hope that one of them will wake up.
One of the partners has to win, because they are both together covering all 38 numbers of the roulette wheel.
The player who bets on the repeating numbers has a winning chance of 28/38 or 73.68%.

The player who bets on the sleeping numbers to awake has a winning chance of 10/38 = 26.31%.
So, most likely, and not always necessarily, the repeating numbers player will win first. We will cover also the possibility of the sleeping numbers player to win first.
If the repeating numbers person wins first, he/she/(them) collects 36-28 = 8 chips and leaves the table with a profit of 8 units. If the unit size was, say, $10, that player wins $80 right away in one spin.
The sleeping numbers player has just lost 10 chips, remains at the table and continues to bet on the 10 sleeping numbers and places 10 chips on them again. If it's a win, the player has so far invested 20 chips and thus wins 36-20 = 16 chips and the session is over.
Combining their profits together, one wins 8 chips, the other 16, 24 chips overall. Sharing those profits, each wins 12 units in 3 spins.
Let's say now that the sleeping numbers player wins first. Having placed 10 chips on the table, this amounts to a winning of 36-10 = 26 chips and your partner leaves the table.
The repeating numbers player has just lost 28 chips. And because the sleeping number player has won, now there are 29 numbers to repeat. If the player continues to place 1 unit on those 29 numbers, and if the bet wins it won't be profitable, since the investment so far is 28 + 29 = 57 chips and the payout is 36. Thus one needs to bet 5 chips on those 29 numbers and the investment will be 5 X 29 + 28 = 173 chips. When one of the 29 numbers hits, the player cashes 5 X 36 = 180 chips profiting 180-173 = 7 units.
Combining both players profits, it amounts to 26 + 7 = 33 chips to share, where each profits 16.5 units again within 3 spins.
Now, if one finds the investment of the repeating numbers player too much, the unit size can be reduced from $10 to a lower value, such as $1 or $5 chips. The sleeping numbers player can stay at $10 bet size.
If the sleeping numbers player wins at the third bet, then the profit will be 36 - 20 = 16 units or $160, where the repeating numbers player wins at the first trial 36 - 28 = 8 units or $40 with a $5 bet on each number.
Sharing those profits again amounts to $160 + $40 = $200 or $100 each.
If you don't have a partner, you can do the following. Track 28 numbers on your own and don't bet yet. Simply observe if the winning side was on the repeating numbers' or the sleeping numbers' side, because covering 38 numbers on your own will make you lose 2 units up front.
Then depending on the side that wins, you continue your progression on the side that just lost until you end the session with a profit.
Moreover, since the roulette table has no memory, you can simply divide the table into two sections: numbers covering 1 to 28 and numbers covering 29-38 (including the two zeros). Then treat the 1-28 section as the numbers to repeat and the section of 0,00,28-36 as the numbers to wake up.
The outcome will be the same and you will quit with your profits and you don't need to share them.
I hope you liked this free system.
Enjoy!
Izak Matatya
www.letstalkwinning.com
www.izakmatatya-digitalart.com

Emails: webmaster@letstalkwinning.com, matatya.izak@gmail.com - please do no longer use: izak.matatya@videotron.ca
Systems Gallery: http://www.letstalkwinning.com/gallery.htm
Newsletter: http://www.letstalkwinning.com/winalert.htm
Newsletter Archive: http://www.letstalkwinning.com/archive.htm
Recommended On-Line Casinos: http://www.letstalkwinning.com/bestonline.htm
Discussion Forum: http://www.letstalkwinning.com/forum/
Izak Matatya's new contemporary digital art online store: https://www.izakmatatya-digitalart.com, www.izakmatatya.com
---
WOULD YOU LIKE TO SUBSCRIBE? Click here.
---
If you missed any newsletter, click here for an archive.
---
Poker Guide - The world's largest poker guide PokerListings.com with reviews of 750 poker sites.

Texas Holdem - Page that compares 45 Texas Holdem online poker rooms on a number of relevant features.
---