Play To Win
Tips and strategies to help make you a winning casino player

Game Rules
Learn: Blackjack, Baccarat, Craps, Roulette, Slots, Video Poker, Pai Gow Poker

Systems Gallery
Win more, more often with proven betting methods from the systems gallery

Order Form
A secure on-line order form to purchase products advertised by Let's Talk Winning.

Playing Online
All about gambling at online casinos. Find out where the best deals are

Links and Things
Sign our guestbook, refer a friend, link to other gambling sites

Newsletter
Click above to read the current edition of our weekly newsletter. Then get your own free subscription right here. Enter your e-mail address for immediate delivery of an introductory issue, including a FREE ROULETTE SYSTEM:

Please tell all your friends about it.

On-Line Forum
Post a gambling question or opinion - get an answer . . .

Wanna Win At Slots? Click Here!







It's now $50 bonus every month!
================================================= Thursday, April 12, 2001

The Craps Gizmo and Special Easter Promotions

Hello everyone,
There are lots of special promotions going on with regards to Easter. I have done some research to dig out the best ones for you. You will find them all right after the following Crapshooter column by Larry Edell.
The Craps Gizmo
It all started with my wife. Last Christmas she bought a small device, which, when plugged into an outlet, was supposed to keep mosquitos, flies, ants, and other pests from invading our home. It even had a flashing light on it to display that it was "working."
"But how is it working," I asked, "How could that little box do anything except blink?"
Andrea, my lovely wife replied, "Dena (a girlfriend) has one and she says it works. She says that if something helps even a little, then it does some good. And if Dena says it, I believe it, so that's that!"
Well, that really was that. We kept it. And as the months went by, I did notice a decrease in the level of non-human pests. Perhaps it was due to Dena's bug gizmo, who knows.
So, last month my wife and I happened to be in a casino playing craps. It was a crowded table and the shooter was setting the dice. Both Andrea and I bet the pass line and a slightly inebriated but somehow still standing gentlemen blurted out "Whajadodat?"
Equally erudite, I responded with "What?"
He burped. "Scuse me. I asked why you bet on him and not the other guy. No difference in shooters. Everyone the same. Setting dice don't do nothing."
The shooter threw a six point. We took 5X odds as it was one of those "full table odds" casinos.
He glared at us again."Huh? You bets odds too?" I noticed that his rack was nearly empty. I guess this is why the casino gives free drinks to people.
"Um, yes. The shooter seems to know what he's doing."
And he did. He threw 8, 5, 9, 10, and another 8.
"Setting the dice doesn't do nothing," our soon to be former acquaintance said.
A 4, a third 8, and, a 6! We won!
"Don't mean nothing. Coincidence." He said it like CO-IN-SI-DENCE.
Now my wife, who is way more patient than I am, turned to him.
"Sir, if anything helps in a craps game, wouldn't you want to use it?
If you had some kind of a craps gizmo that kept sevens away wouldn't you use it, even if it didn't work all the time? So does it really matter if dice setting really works, just as long as it produces results?"
"Huh?" he said, signifying he understood everything perfectly.
"Even if something helps just a little, doesn't it do some good?"
"Huh?"
This all struck a chord somewhere. Oh, now I remembered.
"Besides," I added, "Dena says it works, and I believe it, so it does!"
At that, Andrea and I started laughing hysterically!
The guy said "You guys are drunk!" and somehow managed to scoop up his chips and stagger away towards the slot machines.
I smiled at my wife. "You're right honey. If something works, that's fine with me. It doesn't matter how or why, only that it produces results. I'll bet on a good dice setter anytime!"
"Same shooter, coming out," the dealer announced.
Andrea smiled back at me. We both placed our bets. I'm sure that even Dena would have done the same.
And she never even saw a craps gizmo!
---
You can get a FREE copy of The Crapshooter Newsletter just by sending two first class stamps to The Crapshooter, Dept. INT, PO Box 421440, San Diego CA 92142, or you can subscribe at http://thecrapshooter.com.
You'll also receive a FREE catalog and a special FREE offer!
---
Below are some special Easter promotions by reputable on-line casinos that I gathered for you:
With CasinoVR special Easter promotion you will be able to receive $1,000 Credit Bonuses over the next 4 days.
With the Holidays upon us, come celebrate with CasinoVR in 2 ways!
First, they have our $50 FREE Chip offer. You will see why CasinoVR is rated as having "5 Star Games".
Second, once you cash in on the $50 Free Chip, then get 25% Credit Bonuses on any other deposit you make for the ENTIRE long weekend.
From today, Thursday April 12th until Sunday April 15th come and cash in on this HUGE extra long weekend promotion.
Your deposits receive 25% Credit Bonuses INSTANTLY (Thursday April 12, 200112:01 AM EDT to Sunday April 15, 2001, 11:59 PM EDT) Limit of $1,000 deposit per day equals an AMAZING $1,000 in Comps for this weekend! It is available to ALL Players!
Click here to open a new account at CasinoVR.
---
As of April 10, 2001, The Sands of the Caribbean just wanted to let you know that THREE of their games at The Sands of the Caribbean® Online Casino are currently paying back more than 100% to their players!

On March 27, 2001, the $235,661.81 progressive jackpot at The Sands of the Caribbean® Online Casino was hit by "CREED" from Texas! The official presentation will be made by flying "CREED" to Antigua.

On April 6, 2001 at 9:16 a.m., the $86,944.60 progressive jackpot at The Sands of the Caribbean® Online Casino was hit by "OHFOUR" from Canada!

Sands' progressive jackpot Caribbean Stud game is currently over $118,000! And don't forget they also have two progressive jackpots in both slots and video poker!

Sands of the Caribbean is one of the most trusted online casino in the industry. They recently won the following awards in a customer poll conducted by Casino Player Magazine:

Voted #1 - Best Video Poker
Voted #1 - Best "Payout / E-Cash Program"
Fourteen honorable mentions including "Best Overall Online Casino"

.

Click here to open an account in Sands.
---
VegasUSA promotion is on for the whole month of April. A Let's Talk Winning customer is guaranteed to win $1,000, if you open a real account by following the link, send your VegasUSA account name to

webmaster@letstalkwinning.com and wager for two weeks.

Click here to open an account at VegasUSA.
---
SLOTLAND APRIL PROMOTION - EASTER BUNNY MONEY!
Prepare yourself for the best Easter ever! Beginning at midnight (GMT) on Friday, April 13 and running through to midnight (GMT) on Sunday, April 15, you have the chance of meeting the Slotland Easter Bunny. For the entire Easter weekend, the Slotland Easter Bunny will be hopping around the casino, seeking out players who will receive cash gifts!
As you play your favorite games, keep an eye out at the top of your game screen. If you find a row of eggs spelling out "HAPPY EASTER" after one of your spins, this means the bunny spotted you and added money to your account. You can win between $10 and $50 just by playing their great games! And this can happen as often as FIVE TIMES over the Easter weekend. So our recommendation to you is to keep on playing and collect as much Easter Bunny Money as you can!
And to top off the Easter weekend, ALL players who wager at least $10 during the Easter Bunny Money weekend are eligible for our two special drawings. On Monday, April 16, Slotland will perform two random drawings and the winners will have $500 and $1,000 placed respectively into their Player Account and will be notified of their good fortune by email! Just in time for tax day!
Winners of the random drawing and recipients of Easter Bunny Money gifts must wager their winning amounts at least once before requesting a withdrawal of funds.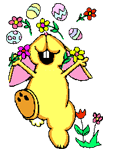 I wish you the best Easter ever, with lots of good eggs and plenty of matching symbols!

And Happy Passover!
Until next week,
Izak
---
---
If you missed any newsletter, click here for an archive.
---
---