"Totally infallible roulette system"
ISDRS - Infallible Single Dozen
Roulette System
by Izak Matatya
"averages 1 unit per 5 spins very consistently"

Excellent news!
Your August 2023 system is ready! It's a roulette system and it's totally infallible!
Yes, absolutely! There are no abandoned runs!
It's the new ISDRS - Infallible Single Dozen Roulette System.
It bets on single dozens as the name implies, that pay off 3 for 1 or 2 to 1.
With the very newly discovered bet selection, it takes advantage of the even distribution of dozens and at times, with its winning streaks, it is extremely profitable.
If any losing streak occurs, bets are totally minimized.
It generates 1 unit for every 5 spins very consistently.
The bet selection and the bet method are a good marriage to generate profits in the long run.
In fact, here is the performance chart of the system: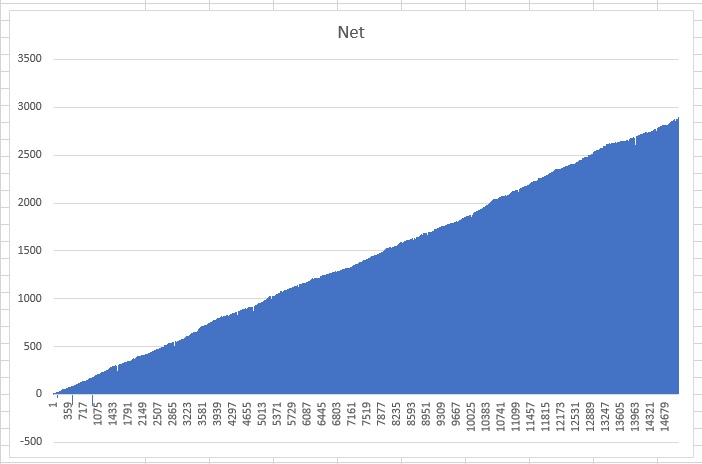 Unheard of performance for a double zero roulette game, that has a 5.26% house advantage, that is completely not felt in this system.
There are no loss limits, no win targets. The more you play, the more you win, forever.
This is achieved with the following stats:
| | |
| --- | --- |
| Maximum Bet: | 266 |
| Session Drawdown: | -532 |
| Overall Drawdown: | -116 |
| Maximum Profit: | 2897 |
| End Profit: | 2895 |
The maximum bet of 266 units is the worst case scenario, may occur once every 800 spins.
Table limits are never exceeded. Suits 1-500 range tables perfectly.
The maximum session buy in you can have is 532 units. And that's for a run, that is never abandoned. That should be your lifetime bankroll to use the system indefinitely.
Also very rare to need that amount. Normally you will comfortable using this system with a maximum buy in of 150 units.
As you can see the steadily increasing profit chart, you can tell the average of 1 unit every 5 spins, as 2,895, almost 3,000 units, are generated in 15,000 spins.
The system document is 15 pages of very easy reading and full of great examples covering all scenarios, easy and tougher runs.
A full simulation of 15,000 spins is also included in the package.
The system goes for $500 and it will pay itself off when you make your first 50 units using $10 bets.
And you will make your 50 units in 250 spins.
Early bird purchasers can have a discount of 50% and receive the system for $250 only if you buy the system by the end of August 2023.
Your satisfaction is guaranteed. Should the system be not to your liking, you can return it with a full refund within 30 days of your purchase, no questions asked, no strings attached.
Click here to purchase the system. An automatic download link will open for you.
Please do not forget to specify your email during your purchase, so your download link can be sent to you.
Thank you!
Izak Matatya
www.letstalkwinning.com
https://shop.letstalkwinning.com/
www.izakmatatya-digitalart.com

Emails: webmaster@letstalkwinning.com, matatya.izak@gmail.com (please do no longer use izak.matatya@videotron.ca)
Systems Gallery: http://www.letstalkwinning.com/gallery.htm
Newsletter: http://www.letstalkwinning.com/winalert.htm
Newsletter Archive: http://www.letstalkwinning.com/archive.htm
Recommended On-Line Casinos: http://www.letstalkwinning.com/bestonline.htm
Discussion Forum: http://www.letstalkwinning.com/forum/
Izak Matatya's new contemporary digital art online store: https://www.izakmatatya-digitalart.com, www.izakmatatya.com
Izak's new NFT site: https://crypto.com/nft/marketplace?isCurated=false&search=izak+matatya
---
---
---
Use the SPR system at Windows Casino

---