"A fascinating new way of using parlays"

3PP - 3 Player Parlay Baccarat System
by Izak Matatya
"Highest bet never exceeding 15 units"
Here's a new system for you, always using a different kind of bet method, never seen before in any other previous one.
It's called 3PP - 3 Player Parlay Baccarat System.
It's written for Baccarat and would work on any even bet system, too.
It can be played on any Baccarat game, EZ, Dragon and commission based baccarat too.
Commissions don't really matter, because we will be placing bets on Player only anyway.
As the name implies we will be parlaying 3 Player decisions.
A parlay is when we win our bet, we let it ride on the table to replicate itself.
So one win will have 2 chips on the table. The second win 4 chips and the third win will have 8 chips on the table.
With the initial investment of 1 units, the parlay will gain us 7 units commissions included, since there are none.
Now if you bet flat on this kind of strategy, the system does not win on the long run.
That's where the special method of 3PP comes handy.
Using this method, profits keep rising continuously.
In fact, following is the performance chart of 3PP: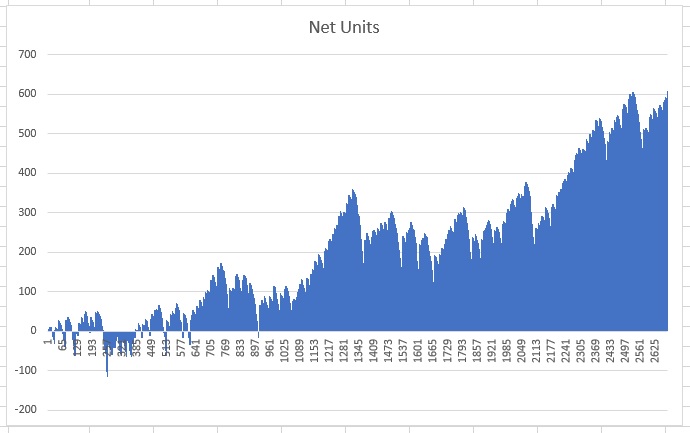 This is achieved with a maximum bet not exceeding 15 units and a total drawdown of 116 units.
600 units are achieved very easily within 38 shoes.
Since I have tested the system manually, I don't have a simulation for 1000 shoes.
The document will show all 38 shoes and how the method is deployed efficiently.
Each and every bet and decision is shown within the 65 pages of the easy reading document.
The system is very effective and very affordable. It's only $220 and it will pay itself off within 3 sessions of your play.
And if you purchase it by the end of June 2023, you can have it for half price at $110 only.
Your satisfaction is guaranteed. Should the system be not to your liking, you can return it for a full refund within 30 days of your purchase totally unconditionally, no strings attached.
Click here to purchase the system. An automatic download link will open for you.
Please do not forget to specify your email during your purchase, so your download link can be sent to you.
Thank you!
Izak Matatya
www.letstalkwinning.com
https://shop.letstalkwinning.com/
www.izakmatatya-digitalart.com

Emails: webmaster@letstalkwinning.com, matatya.izak@gmail.com (please do no longer use izak.matatya@videotron.ca)
Systems Gallery: http://www.letstalkwinning.com/gallery.htm
Newsletter: http://www.letstalkwinning.com/winalert.htm
Newsletter Archive: http://www.letstalkwinning.com/archive.htm
Recommended On-Line Casinos: http://www.letstalkwinning.com/bestonline.htm
Discussion Forum: http://www.letstalkwinning.com/forum/
Izak Matatya's new contemporary digital art online store: https://www.izakmatatya-digitalart.com, www.izakmatatya.com
Izak's new NFT site: https://crypto.com/nft/marketplace?isCurated=false&search=izak+matatya
---
---
---
Use the 3PP system at Windows Casino

---