Play To Win
Tips and strategies to help make you a winning casino player

Game Rules
Learn: Blackjack, Baccarat, Craps, Roulette, Slots, Video Poker, Pai Gow Poker, Texas Hold'em, Caribbean Stud, Let It Ride, Casino War, Big Six, Sic Bo (NEW!)

Systems Gallery
Win more, more often with proven betting methods from the systems gallery

Order Form
A secure on-line order form to purchase products advertised by Let's Talk Winning.

Playing Online
All about gambling at online casinos. Find out where the best deals are

Best Casino Bonuses - NEW!
The best collection of on-line casino bonuses, where you can cash $802 on your sign-up.

Links and Things
Sign our guestbook, refer a friend, link to other gambling sites.

Gambling News - NEW!
Latest Gambling News - updated daily including gambling articles, joke of the day and a gambling dictionary.

Newsletter
Click above to read the current edition of our weekly newsletter. Then get your own free subscription right here.

Please tell all your friends about it.

On-Line Forum
Post a gambling question or opinion - get an answer . . .
---
Below is a selection of the most recommended
on-line casinos
and sportsbooks
Check out:
On-Line Casino of the Month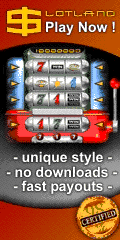 ============================================================= Saturday, January 28, 2017

The Rise of Mobile Gambling
Dear Let's Talk Winning subscribers, customers, friends,
It is estimated that there are a whopping 2 billion smartphone users today and the number is set to rapidly increase in the coming years.
Given the vast popularity of smartphones, there has been no surprise to see casino online mobile applications rising to prominence and one sector which has been completely revolutionized is the gambling industry. Here are our four top facts about mobile gambling –
1. Exponential growth
In 2011, mobile had only 7% share of the gambling industry but that number has grown drastically over the past five years. The mobile user base has risen to 40% in 2016 and it has been predicted that as much as 165 million people will be using their handsets for the purpose of online gambling by 2018.
2. A $100 billion industry and counting
The United States is unsurprisingly one of the biggest gambling nations but the growth in mobile gambling had been impeded due to regulatory issues.
However, there is set to be a legislative change in the North American nation and this is set to have a knock on effect on the worldwide mobile gambling industry, with revenues set to exceed 100 billion British pounds by the end of this year.
3. Convenience the key to boom
There are many factors which have been the driving force behind the large growth of the mobile gambling industry but the main reason has to be convenience.
Mobile gambling's clear advantage to usual restrictive brick and mortar locations is that a user simply needs access to the internet to place a bet and this can be done from anywhere around the world.
In addition, mobiles are a lot easier to access than a desktop – especially when it comes to the hugely popular live in-play sporting events which require bets to be placed instantly.
4. Companies profiting from mobile marketing strategy
Due to the mobile phone revolution, companies have been clever enough to adopt intensive marketing strategies to take full advantage and many established organizations currently focus on producing and improving smartphone applications for the ease of their customers.
As a testament to this fact, UK Betting giants Paddy Power reported back in 2014 that 45% (175 million British pounds) of their online revenue comes from mobile and this number is set to gradually increase in the foreseeable future.
Wishing you all the best,
Izak Matatya
Email: webmaster@letstalkwinning.com or izak.matatya@videotron.ca
Systems Gallery: http://www.letstalkwinning.com/gallery.htm
Newsletter: http://www.letstalkwinning.com/winalert.htm
Newsletter Archive: http://www.letstalkwinning.com/archive.htm
Recommended On-Line Casinos: http://www.letstalkwinning.com/bestonline.htm
Discussion Forum: http://www.letstalkwinning.com/forum/
Latest Gambling News: http://www.letstalkwinning.com/latest-news.htm
Izak Matatya's Digital Art Works: https://www.izakmatatya-digitalart.com
---
WOULD YOU LIKE TO SUBSCRIBE? Click here.
---
If you missed any newsletter, click here for an archive.
---
Poker Guide - The world's largest poker guide PokerListings.com with reviews of 750 poker sites.

Texas Holdem - Page that compares 45 Texas Holdem online poker rooms on a number of relevant features.
---